I had to work today and most of my family had to go into town for a funeral, so I was most or less on my own for my birthday (however, since today was also my dad's birthday and my mom's is next Sunday, we're going to do something to celebrate later). I got tons of birthday wishes via Facebook and Twitter (Thanks y'all!) and one of my dearest friends left me the sweetest voicemail. Plus, I stretched out my birthday gift opening so I basically opened presents all day. I wound up with
Incarceron
and
Sapphique
by Catherine Fisher (I've heard nothing but good things about those and I'm eager to read them) plus the "Trial of a Time Lord" DVD boxed set (*gleeful cackle*) (Don't ask me why I'm gleefully cackling over "Trial" - I haven't even seen it yet). And my boss left me a gourmet frozen pizza from Schwan's with a really nice note wishing me happy birthday. All in all, a pretty good birthday.
Then, my cousin calls and says she's making a nice dinner and chocolate cake for my birthday (WHEE!). So I go over and visit while she's making dinner when her eight-year-old daughter comes up the stairs with the distinct look that she is Up To Something. The eight-year-old tells me she has a birthday present for me, but I have to guess a riddle in order to get it. Something to do with where birds build their nests (she's eight - it's cute). Evidently, I guessed correctly because she leaves for a minute and comes back with this: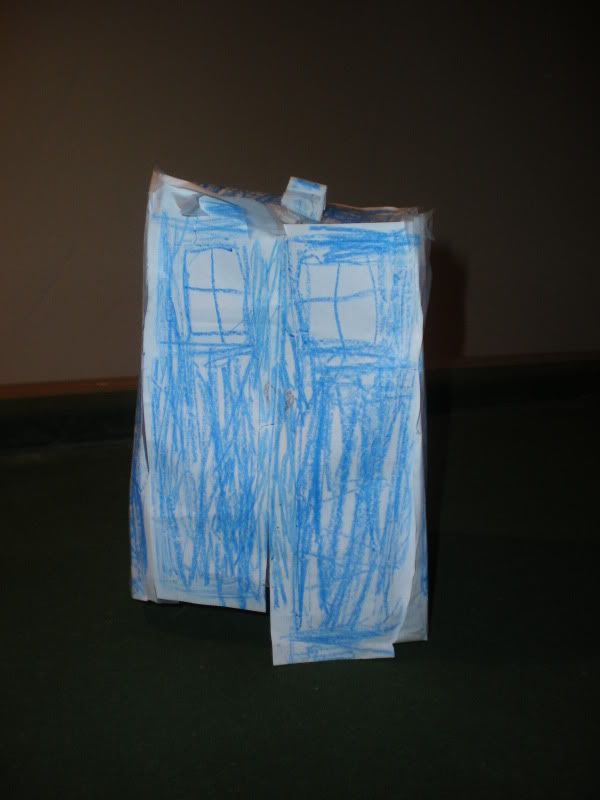 (And suddenly, the fact that she had been staring at my TARDIS t-shirt at intermittent intervals makes so much more sense!)
I don't care who you are - that is so stinking adorable.